A typical week in the office now runs from Tuesday to Thursday, a study of mobile phone activity suggests.
Analysts Placemake.io and Visitor Insights examined anonymised phone data from more than 500 UK high streets from 2019 to 2022.
The study found increased activity in many suburban and small towns, which it linked to the trend for working from home.
Seaside towns were significantly busier than before the Covid pandemic.
Mark Allan, chief executive of property firm LandSec, said Tuesday to Thursday was incredibly busy in the City of London, but activity on Mondays was only 50-60% of that level, and Fridays were almost as quiet as weekends.
"We're not going back to how things were pre-Covid," he said. "We certainly believe there are going to be fewer people in offices for the longer term and we are planning accordingly."
Real estate firm CBRE Investment Management said empty office space in London has more than doubled in the last three years.
The company's head of European research, David Inskip, warned many office districts would struggle if there was nothing but a desk and a computer on offer.
"It has to be a high quality built environment that draws you in," he said.
However, while city centres have seen a decline, many towns and suburbs have seen an increase in high street footfall.
In Kirkby, Merseyside, footfall appears to have increased by 160% over three years, aided by local regeneration, including the opening of a supermarket in the town centre.
PlaceMake.io founder Chlump Chatkupt said: "The places that have thrived have a more balanced, diverse mix of office, residential and retail.
"Residents are spending more time at home and in their local community and finding they can do a lot without venturing too far out."
Towns with shops, offices and housing all within walking distance – what planners call a 15-minute city – have done well.
Town centres recording the biggest increase in activity include:
Marlow: 33%
Glossop: 33%
Matlock: 32%
Colchester: 26%
Buxton: 26%
Melton Mowbray: 23%
Attraction of the seaside
Activity also seems to have increased in seaside towns, including Budleigh Salterton in Devon. The town which had a reputation as a place to retire, has attracted an increasing number of young families.
Adam Sweet, a structural engineer who largely works from home, said when he arrived in the town in 2016 he knew of only one family with young children in his neighbourhood.
"Since then, there's 10 or 20 families in our area who've all moved in and I know a lot of people who are waiting to move in to Budleigh, it's become quite a family area," he said, adding: "People can live further away now."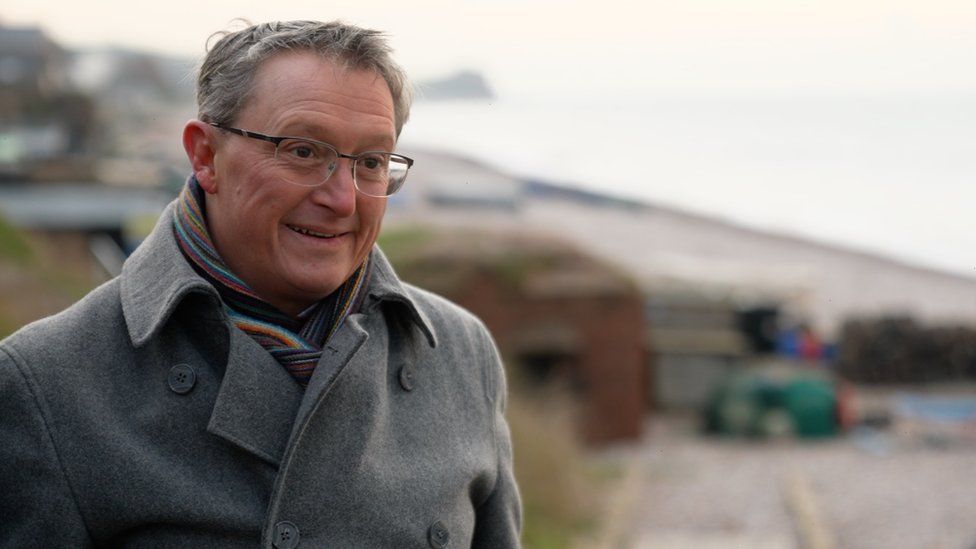 Mark Godfrey, who runs Deer Park Country House in Honiton, Devon, moved in to Budleigh Salterton in 2021.
He only goes in to the office twice a week.
"As soon as I finish work it takes me seven minutes to get to the sea for a swim," he said.
Seaside towns that have seen a big boost in high street footfall include:
Morecambe: 70%
Budleigh Salterton: 59%
Porthcawl: 55%
Skegness: 53%
Folkestone: 52%
Margate: 32%
Scarborough: 29%